Skip Header
Mainland China's retirement awareness improves,but family commitments and gender divide present challenges
Fidelity International and Ant Fortune jointly release findings of the annual Mainland China Retirement Readiness Survey 2019
Millennials becoming more aware of retirement savings, desire to retire earlier, as all other respondents do
Women are comparatively more focused on family priorities and more open to improving their financial knowledge
---
Beijing, China, 19 September 2019 -While considerable barriers remain in Mainland China when it comes to being 'Retirement Ready', with women facing the relatively bigger challenge, there are many encouraging positive signs that more people are saving for retirement compared to last year, a newly released survey from Fidelity International and Ant Fortune reveals today.
The Mainland China Retirement Readiness Survey 2019, believed to be one of the biggest of its kind globally with 50,050 respondents, was co-developed by Fidelity International and Ant Fortune, a comprehensive wealth management platform for Alipay users.
It found that half of the respondents surveyed are saving for retirement, up from 46% in 2018, with the ratio of younger savers increasing to 48% from 44%. Overall, respondents generally want to retire earlier, with their target retirement age coming down from 57.6 years last year to 55.8 years.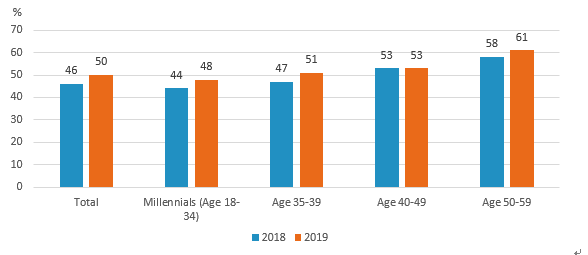 Barriers to saving
"Lack of capital" was once again highlighted as a key hurdle to saving; this year's survey took a closer look at the financial challenges faced by Chinese savers and identifies the specific road blocks that are hindering their retirement saving and long-term investment.
The survey suggests that competing financial needs are getting in the way of Chinese savers' ability to put in place steps that would help them reach their retirement goals. Securing a comfortable life for parents is selected as an important life goal by the largest number of respondents (66%), even though the number of people who expect to rely on their children to support their retirement is diminishing.
Other priorities included ensuring a good education for children (64%) and achieving a successful career (52%). Less than half of the respondents (46%) indicate having a comfortable retirement as one of their top life goals.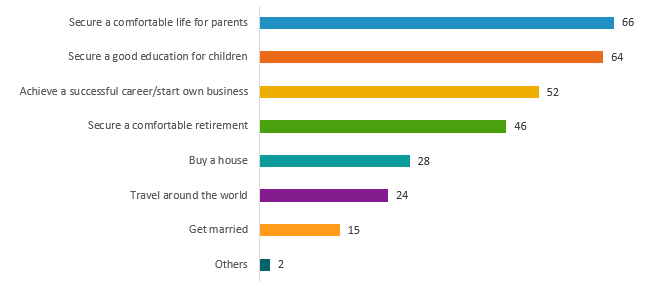 Women put family priorities top of mind, are more open to improving their financial knowledge
According to the survey, Chinese women have higher retirement savings targets and a stronger willingness to save. Close to one-third are open to learning more, suggesting strong demand for retirement planning advisory services. Similar to the global trend, women in Mainland China face a bigger retirement funding shortfall and also encounter more challenges in planning and saving. Close to 60% of women haven't started to save for retirement, while the figure for their male counterparts is 45%.
A couple of reasons contributed to this disparity. Firstly, women tend to be more focused on family priorities. More women than men are keen to provide high-quality education for their children or buy a house. More than one-fifth of women, the largest single cohort, said securing their children' education is their most pressing goal. Only 42% of women consider a comfortable retirement life as a key life goal, compared to 49% of men.
In addition, the overall earning power of women is lower, despite the fact that more women than men attend university, and that Mainland China's female labour force participation rate is comfortably higher than the global average. The results show that women's average personal income is about 21% lower than that of men. Meanwhile, 69% of female respondents said they lack the capital for retirement savings.
Lacking investment and retirement planning knowledge comprise a key barrier for women's retirement savings. More than a quarter of women (27%) don't have a retirement target, compared with 18% of male respondents. Furthermore, a greater proportion of women (30%) than men (24%) said that they would be more likely to start saving and investing if they had better knowledge of investing and retirement.
Since August 2018, over 50 pension target funds have been launched in Mainland China to support Chinese savers' investing for retirement. With this positive development on the product front, the question of how to encourage people to save more and proactively leverage investment tools to fulfil their retirement goals is the next major challenge.
It's encouraging to see Mainland China's retirement awareness improving. It shows that the tremendous investor education efforts made by the Chinese government and by financial services firms, including Fidelity International and Ant Fortune, are yielding positive results," said Rajeev Mittal, Managing Director of APAC ex-Japan at Fidelity International "We are also very excited to see the scale of our survey double in size just in one year. The participation of over 50,000 respondents ensures the report captures a panoramic view and provides unparalleled insights about Mainland China's retirement preparedness and demographic trends, which are of great interest to both domestic and international audiences."
Jackson Lee, Mainland China Country Head at Fidelity International, said: "As the 2019 survey results revealed, in addition to general retirement awareness, people need more specific guidance and customized support to help them balance their financial priories and set their individual retirement savings goals. To address these needs and help Chinese savers build confidence in retirement planning, we will strive to introduce more of Fidelity International's global best practices to Mainland China, including a wide range of investor education content as well as retirement planning tools – all available on digital platforms."
Guoming Zu, Vice President, Wealth Management Business Group, Ant Financial, said: "We are pleased to see some very encouraging signals from this year's Mainland China Retirement Readiness Survey. Although the average savings are not high, more respondents have started to save, which is consistent with the trend we observed on the Ant Fortune Platform. Retirement planning is a process of several stages: from becoming consciously aware, and accumulating knowledge, to saving regularly and habit formation. Providing simple and easy-to-follow retirement planning tools serves as an effective and inclusive way to promote financial planning. We look forward to deepening cooperation and mutual exploration with Fidelity International in this field."
Please read the full whitepaper
- End -