Skip Header
More than half of Chinese Millennials have not planned for retirement
Fidelity International partners with Ant Fortune on China Retirement Readiness Survey
---
Shanghai, China, 14 August 2018: Fidelity International and Ant Fortune, a subsidiary of Ant Financial, today announce a five-year partnership to assess China's retirement readiness. The ground-breaking partnership will utilize Ant Fortune's vast digital platform and data analytics, combined with Fidelity's global investment and pension expertise, to produce unparalleled research and insights into China's investment and savings patterns and overall retirement awareness.
Covering 28,440 Ant Fortune users, the inaugural China Retirement Readiness Survey from Fidelity International and Ant Fortune is one of the largest of its kind in China. With 75% of respondents millennials (aged 18-34), the 2018 survey is entitled "Helping Millennials Invest for the Future" and it reveals that while the younger generation is broadly optimistic and looking forward to retirement, more than half of them have not prepared for it.
The development of a third pillar pension system has been picking up pace this year against the backdrop of a rapidly-aging population and increasing burdens on first and second pillar pensions in China – with the first batch of 14 pension target funds having been recently approved. However, according to the survey findings, in addition to the development of a private pension system and product offerings, a low awareness about retirement underlines the critical and urgent need for investor education to improve the healthy development of the third pillar in China.
Our research found (please refer to the whitepaper for the full set of findings):
Lack of retirement saving targets lead to limited financial planning
According to the survey results, Chinese millennials aim to retire around the age of 57 and have overwhelmingly positive attitudes towards retirement.
However, only 44% of Chinese millennials have started saving for retirement. Among the non-savers, the average age they plan to start saving is 40, which means they only have 17 years left to save before reaching their ideal retirement age.
Who has started saving for retirement (% of respondents)

Source: Fidelity International and Ant Fortune
According to the survey results, on average, Chinese millennials are saving RMB 1,339 (approx. USD $196) a month. The main barrier to saving is reported as "lack of capital".
Insufficient financial literacy hinders millennials ability to reach retirement goals
Chinese millennials expect they will need at least RMB 1.63 million (approx. USD $240,000) to have a comfortable retirement. Based on current saving levels and deposit interest rates, it would take about 59 years to reach their retirement goals without investing.
Few have realized the importance of investing in reaching their retirement saving targets. More than half of Chinese millennials responded that they would expect to simply use cash savings and the government pension as their main sources of retirement income.
Expected key source of retirement income (% of respondents)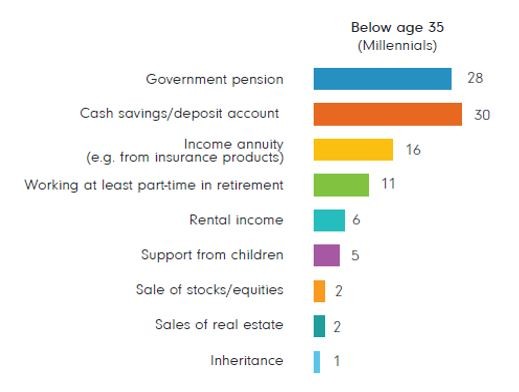 Source: Fidelity International and Ant Fortune. (Percentages may not add up to 100 due to rounding)
Chinese millennials are also not very well-versed on effective retirement investment strategies. Less than one third prioritizes long-term returns when purchasing retirement saving products.
Strong reliance on the government pension and cash savings to fund retirement, and a lack of knowledge on retirement investment strategies, are also found to be prevalent among non-millennial respondents, which underscores an urgent need to boost the country's financial literacy to improve people's retirement readiness.
Most important factor for selecting retirement saving product (% of respondents)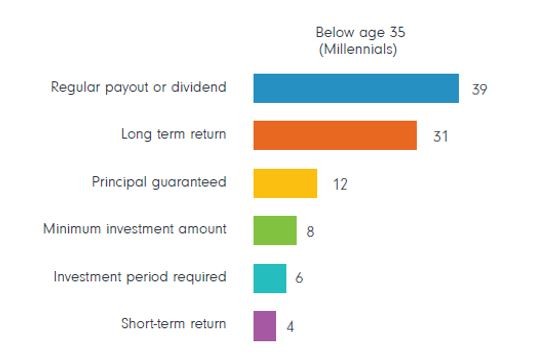 Source: Fidelity International and Ant Fortune. (Percentages may not add up to 100 due to rounding)
"Our survey, conducted in partnership with Ant Fortune, indicates a greater opportunity for investor education around topics such as investment strategy for different life stages to help people achieve a better outcome in retirement," said Daisy Ho, Managing Director, Asia ex-Japan, Fidelity International. "We hope that the young generation will realise the importance of saving, investment and time in making pension preparations. Fidelity International has a deep and rich heritage in pensions globally, and we are keen to share our experiences with the China market and help the young generation better prepare for their retirement."
Jackson Lee, China Country Head at Fidelity International, said: "We are impressed by the level of positive response to our online survey from Ant Fortune's users, which highlights the fact that millennials disseminate information in a different way to other generations. Looking ahead, we will focus on amplifying our investor education and retirement planning content on digital channels and we are thrilled to be working with Ant Fortune in this capacity."
Guoming Zu, Vice President, Wealth Management Business Group, Ant Financial said: "Everyone needs to pay attention to and plan for retirement in advance, especially as the population begins to age. This survey, carried out in collaboration with Fidelity International, gives a snapshot about awareness of retirement among China's young generation and how prepared they are for retirement, which will also serve as a reminder to people about the critical role of retirement planning. We hope the survey can help boost these people's awareness about retirement."
Please read the full whitepaper
- End -