Skip Header
Global healthcare challenges and market volatility boost retirement awareness among Chinese millennials
Fidelity International and Alipay Wealth Management Platform jointly release findings of the annual China Retirement Readiness Survey 2020
Against the backdrop of the COVID-19 pandemic and global market volatility, Chinese millennials are increasingly aware of the need for retirement planning
Fidelity Retirement Savings Guidelines indicate Chinese savers need 9 times annual income to maintain their current lifestyle in retirement
---
Shanghai, China, 17 September 2020: Against the backdrop of global healthcare challenges and the unprecedented market volatility in 2020, Chinese millennials are increasingly conscious of the need for retirement planning and long-term investment, a newly released survey from Fidelity International and Alipay Wealth Management Platform reveals today.
The Post-COVID China Retirement Readiness Survey, jointly released by Fidelity International and Alipay Wealth Management Platform, drew over 60,000 respondents - a record high number since the two parties started the research initiative in 2018.
The report results show that retirement awareness has been improving in China for the third consecutive year. Among millennials (aged 18-34), 51% of respondents claimed they've started saving this year, up from 48% in 2019 and 44% in 2018. Close to 70% of young people confirmed that the market volatility has driven them to increase savings especially for unexpected needs, and around 40% said the challenging time has prompted them to carefully plan for long-term/retirement investment.
Moving in the right direction while barriers remain
According to this year's survey results, the number of people saving for their future in China continues to grow across all demographics. Among the young generation, they usually start saving at the age of 30 and put aside RMB1,334 per month on average. The young respondents set their retirement savings goal at RMB 1.5 million and they still want to retire early, with their target retirement age landing around 57 years.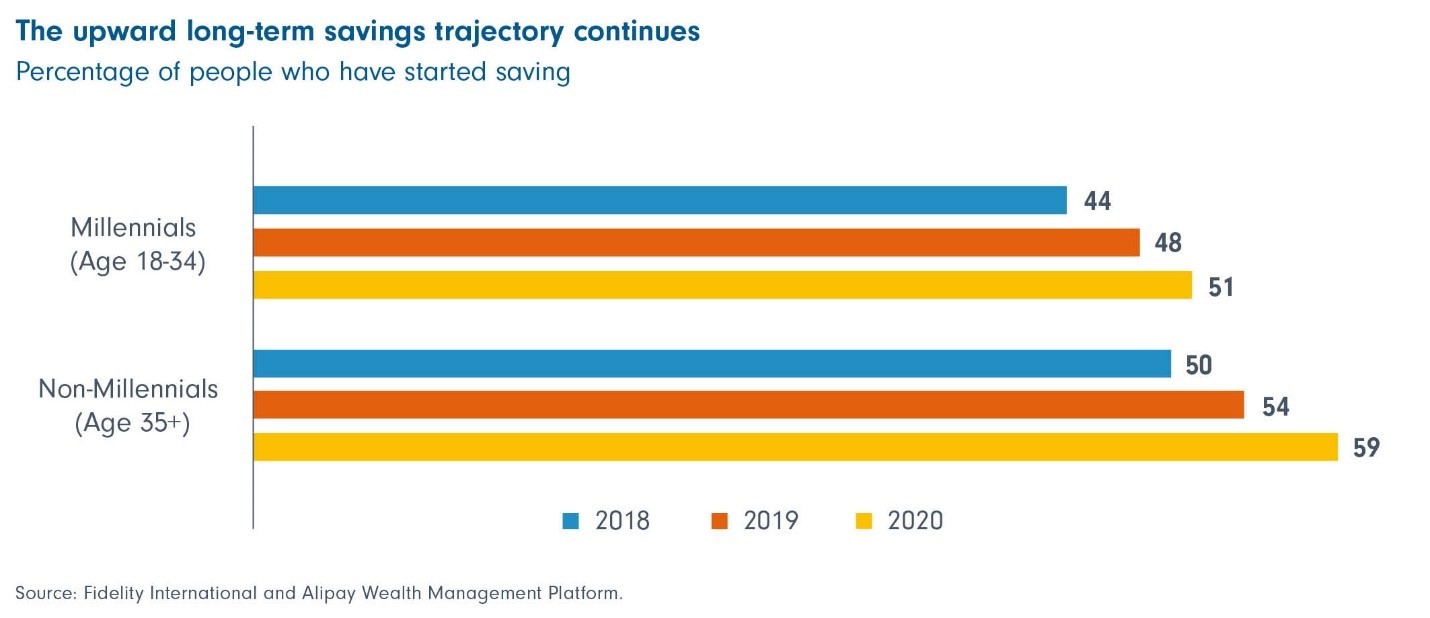 As a result of more active and consistent saving, even with the impact of COVID-19, the percentage of millennials who feel confident that they can save a sufficient amount for retirement jumped up to 43% in 2020 from 32% in 2019, an increase of 11%.
Some key barriers remain. Similar to the findings last year, high monthly expenses and lack of capital are the top two reasons mentioned by millennials for why they have not yet started saving. Of the young non-savers, 48% said looking for a higher-paying job, i.e. earning more as opposed to saving more, is more likely to help them start saving for retirement.
Empowering the young generation to take the first step
The survey reveals that some positive mindset shifts are happening among the young generation in China, which indicate that the time is ripe to empower them further and support them to take the first step in retirement planning. Apart from the lack of capital and high expenses, 24% of the young non-savers, a much higher percentage than last year, claimed that they believe the lack of investment knowledge hindered their saving and investment.
There are also 20% of young non-saver respondents who think that setting a fixed monthly saving amount, which is a commonly recommended tactic to increase retirement savings, would help them improve personal finances. Also, 17% said they are willing to give up entertainment expenses for saving, which is very positive signal showing that young people are more open to the idea of balancing financial priorities than before and proactively considering possible lifestyle adjustments to improve their long-term financial wellbeing.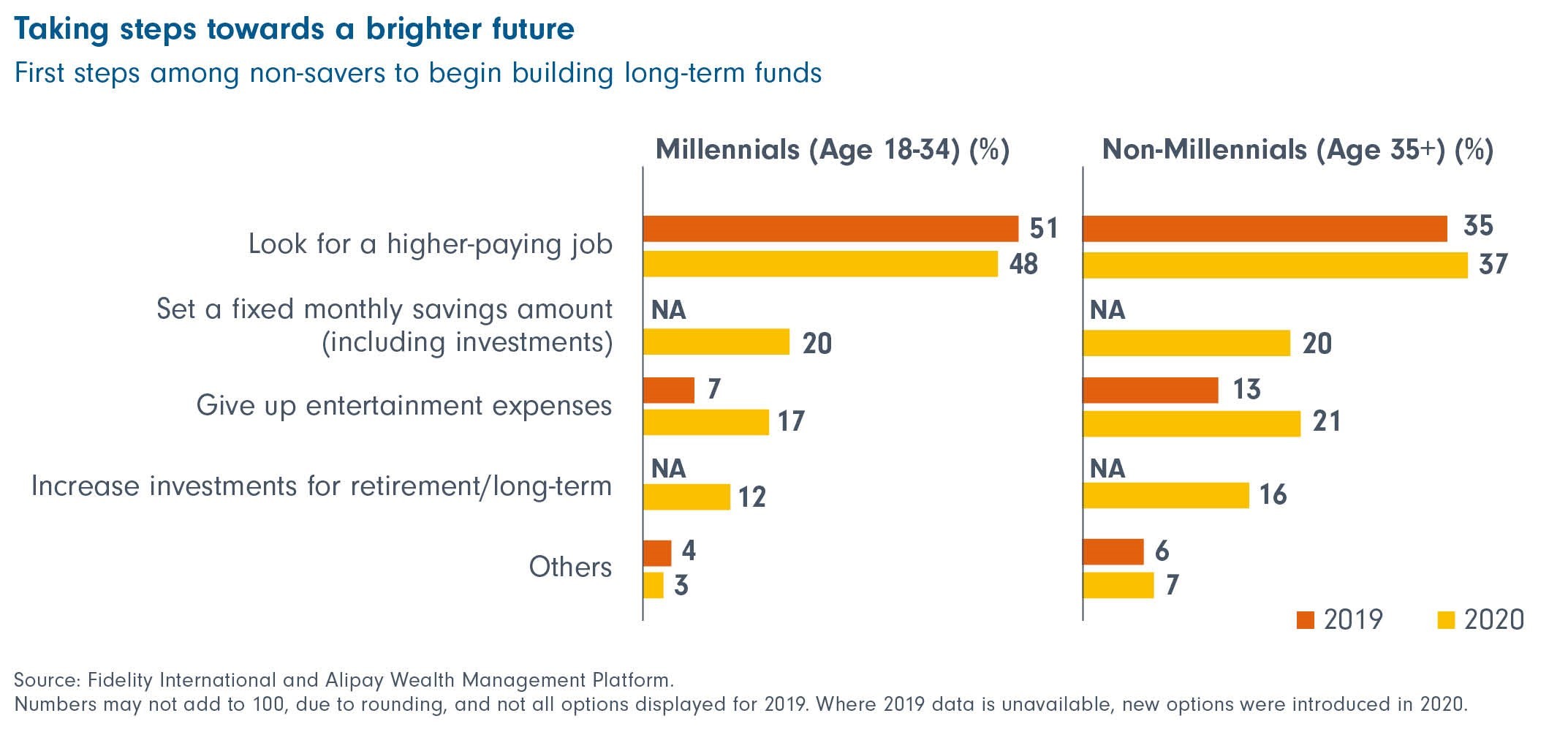 Source: Fidelity International and Alipay Wealth Management Platform
Proprietary guidelines to support retirement goal setting and progress tracking
To help Chinese people set retirement savings goals and track their saving progress, Fidelity International today introduces its proprietary, industry-leading global retirement savings guidelines to the China market.
The Fidelity Retirement Savings Guidelines (the Guidelines) use the multiple of an investor's annual salary as a unit of measurement and indicator to track retirement savings milestones to fit each individual's financial situation.
According to calculations from Fidelity International, Chinese savers who want to maintain their pre-retirement lifestyle will need to save at least 9 times their annual income by the age of 62. To achieve this goal, they need to save 19% (yearly savings rate) above their pre-tax annual income between the ages of 25 to 62, in addition to the mandatory 8% State Pension contribution to the personal account. The young generation has a great advantage in terms of time horizons, as the earlier one starts saving, the less they need to save every year to meet their retirement goals.
The Guidelines also provide age-based savings milestones - if people are disciplined savers, they should have accumulated one times their annual income for retirement by the time they are 30 years old. By the age of 40, the savings milestone should be four times, six times for those at the age of 50 and ultimately 9 times by the time one retires at the age of 62. These milestones aim to help investors estimate and track their retirement savings progress over the years.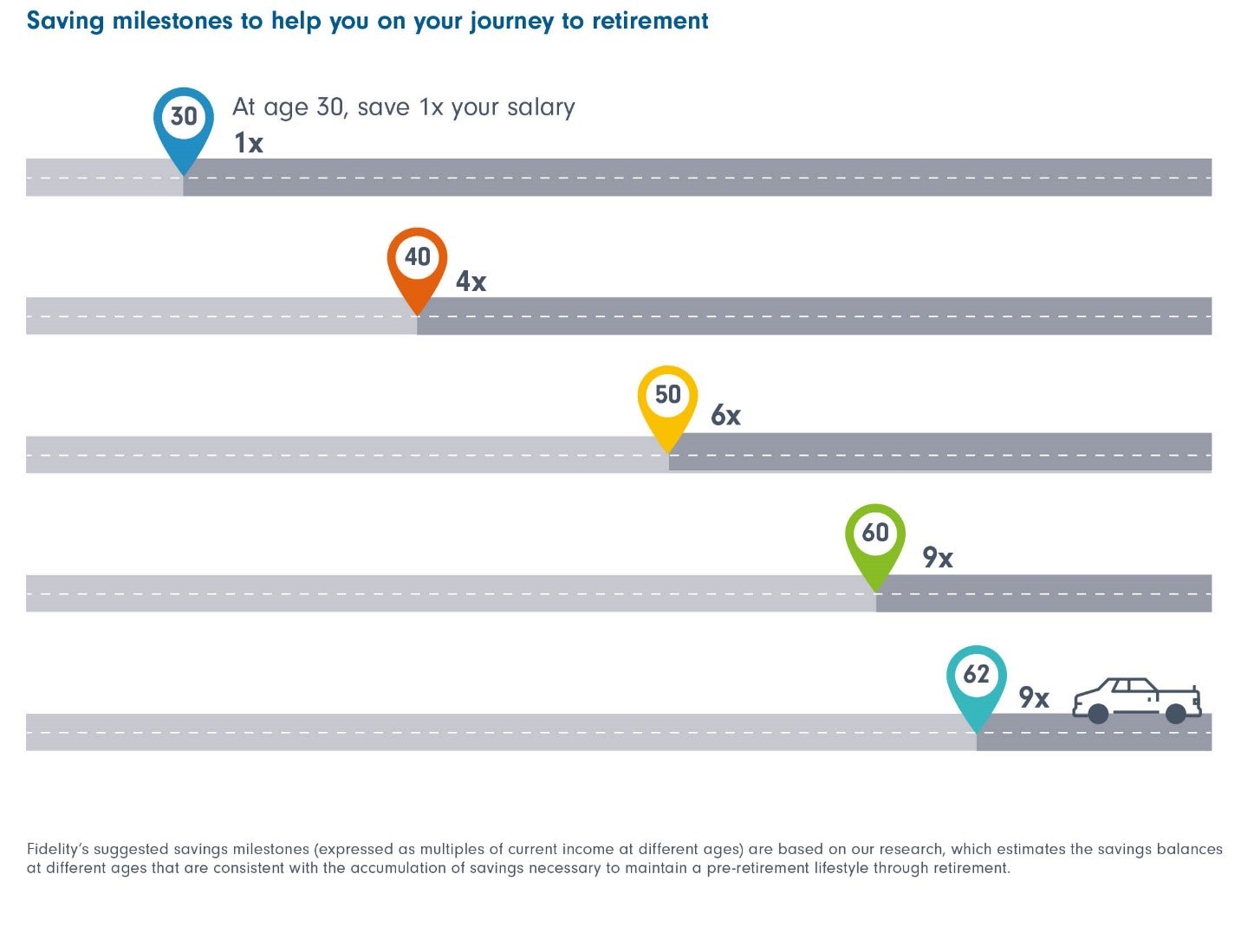 Source: Fidelity International
"We are happy to see our partnership with Alipay Wealth Management Platform and the China Retirement Readiness Survey continue to yield constructive results and provide great insights into China's retirement preparedness for a third year," said Daisy Ho, President, China at Fidelity International. "Fidelity International holds a very strong commitment to the China market and pension is an important pillar of our China strategy. As we seek to transition to a mutual fund company in China in the near future, we aim to advance collectively with Chinese investors and leverage our global retirement expertise to help Chinese people improve their financial health over the long term."
Guoming Zu, General Manager, Financial Institution Strategic Cooperation, Ant Group, said: "This is a very challenging year; however, the findings from the Retirement Readiness Survey show that the pandemic and market volatility have ushered in new perspectives on life, wealth management and insurance among the young generation, which is really encouraging. Riding on the improving awareness, Alipay Wealth Management Platform will continue to provide a diversity of educational content, tools and services, such as Fidelity Retirement Saving Guidelines, to support young people's long-term retirement investment."
- End -